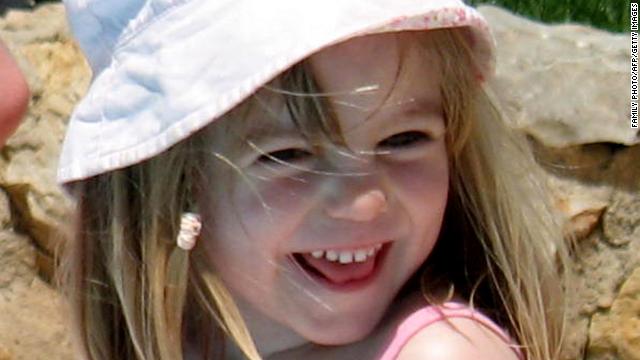 But neither her parents nor the detectives investigating her case are giving up on one day finding the little girl from Leicestershire, England. Her disappearance is set to get renewed attention Monday when investigators make another appeal to the public on BBC's "Crimewatch," releasing two computer-generated sketches of a man spotted around the resort town of Praia da Luz on the day then-3-year-old Madeleine went missing. The sketches are based on descriptions from two separate witnesses. "Today I am asking the public for their help. Whilst this man may or may not be the key to unlocking this investigation, tracing and speaking to him is of vital importance to us," Detective Chief Inspector Andy Redwood said in a statement Monday before the program, which will air in the United Kingdom, the Netherlands and Germany. "We have witnesses placing him in the resort area around the time of Madeleine's disappearance." The man is described as white, between 20 and 40 years old, with short brown hair and a medium build. Additionally, investigators believe they have a better understanding of when Madeleine may have been abducted, Redwood said. The "Crimewatch" program Monday night will reconstruct the events of May 3, 2007 — the night Madeleine disappeared from her family's villa while her parents dined at a nearby restaurant. She was just days shy of her 4th birthday. "The timeline we have now established has given new significance to sightings and movements of people in and around Praia da Luz at the time of Madeleine's disappearance," Redwood said. Police announced in July that they have identified 38 "people of interest" in connection with the case. Twelve of them are UK nationals who the police believe were in Portugal at the time the girl went missing. All the others are European nationals.
UK offers help to cyclone victims
It started out as a complaint about the alleged mis-selling of interest rate swaps but a judge ruled last October that it could be amended to include claims of fraudulent misrepresentation connected to Libor manipulation. Barclays said the case has no merit because Guardian Care Homes had sufficient understanding of the products to make its own judgment over whether to enter into the agreements. "The addition of a claim based on what happened with Libor does not change the bank's view. This business had a suite of advisors and a lot of financial experience and skill in-house," it said on Friday. Barclays last year paid a $450 million to settle allegations it manipulated Libor, and UBS and Royal Bank of Scotland have been fined for manipulating Libor. Deutsche is among several other banks under investigation. Deutsche Bank last year sued Indian property firm Unitech for the repayment of a $150 million loan made in 2007 by a consortium of lenders and for the repayment of $11 million owed for a related interest-rate swap. But Unitech counter-sued, saying the loan and swap deal were linked to Libor interest rates, which at the time were being manipulated by some banks. A UK court last month said Unitech must repay the loan, but said the dispute over the related swap should go to trial. The judge said just because there was evidence the Libor rate had been manipulated did not make a loan void. But he said the terms of the swap agreement and its specific link to a Libor contract were more contentious. "The defendant's attempts to introduce broad and unsupported allegations about Libor, which have already been rejected once by the High Court, are a bid to delay payment and divert attention from its unpaid debts," Deutsche Bank said on Friday.
(PETER KNEFFEL/AFP/Getty Images) Spain Since 2010 more than a dozen cities passed laws outlawing the wearing of niqabs and burqas in public. But Spain's Supreme Court in February 2013 threw out these ordinances as unconstitutional. A woman wearing a hijab walks past Spanish police following a raid on a house of suspected members of an radical Islamic group in Malaga, southern Spain, 19 December 2005. (JOSE LUIS ROCA/AFP/Getty Images) Netherlands The country's previous center-right coalition had planned to ban the public donning of niqabs and burqas, but that bill was shelved in 2012 when the government collapsed and was replaced by left-wing rivals. A woman wearing a full-face veil known as niqab, pushes a baby stroller on snow-covered streets in Amsterdam, Netherlands, Monday Jan. 21, 2013. (AP Photo/Peter Dejong) Canada In 2011 the government made it illegal for women to wear face-covering garments at citizenship ceremonies, because the judge must be able to see each person's face reciting their oath. In 2012 the Supreme Court issued a rare split decision on whether women could cover their faces on the witness stand; four judges said it depended on the circumstances, two said witnesses should never cover their face, and one said a Muslim witness should never be ordered to remove her veil. The provincial government of French-speaking Quebec this year has proposed a law that would outlaw all religious regalia including Muslim scarves and veils, turbans, Jewish skullcaps and Christian crucifixes from state buildings. Demonstrators take part in a protest against Quebec's proposed "values charter" in Montreal, Quebec, Canada on Saturday Sept. 14, 2013. The separatist Parti Quebecois government said the proposed law would forbid government workers from wearing religious headwear such as hijabs, turbans, and kippas and will be introduced for debate later in the year. (AP Photo/The Canadian Press, Ryan Remiorz) United States America has no laws restricting the use of veils or headscarves because it conflicts with constitutional rights to freedom of speech.
UK Government Introduces Tough Immigration Bill
Seawater pushed inland, swamping villages where many people survive as subsistence farmers in mud and thatch huts, and destroying hundreds of millions of pounds' worth of crops. The final death toll is expected to climb further as officials reach areas of the coast that remain isolated by downed communication links and blocked roads, but the careful planning for the event appeared to have saved many lives. "Damage to property is extensive," said Amitabh Thakur, the top police officer in the Orissa district worst-hit by the cyclone. "But few lives have been lost." Indian weather experts said the storm had sustained winds of up to 131mph while it was over land. The US Navy's Hawaii-based Joint Typhoon Warning Center reported maximum sustained winds of 138mph and gusts up to 167mph four hours before it reached the Indian coast. More than 870,000 people were evacuated in Orissa state and more than 100,000 in neighbouring Andhra Pradesh. Save the Children said it was working with the Indian government and partners to assess the needs of children. Spokesman Devendra Tak, in Puri, said: "The hotel I stayed in was one of the tallest buildings in the area, so I could see far around. From here in Puri, the damage does not look as bad as we thought it could be: telephone posts have been pulled up from the ground, and trees uprooted, but buildings remain – for the most part – intact. "Looking out to the ocean, it's clear the water is still quite rough. On the ground, people are starting to come out, there are children on the streets. The wind is still quite strong although the rains have let up. "The wind speed is very high, so we anticipate that there may be delays in being able to reach the most vulnerable families with aid. This also means it could take some time before the full extent of the damage is known, but our teams are working around the clock to coordinate a rapid response and meet the needs of those affected." A spokeswoman for Oxfam said the next few hours remained crucial for tens of thousands of Indians stuck in the middle of one of the country's largest natural disasters. "The major challenge is to clear debris and to quickly restore communications.